MAIA S2 – the multispectral camera
MAIA is the multispectral camera that permits the simultaneous acquisition of high resolution images at various wavelenght intervals in VIS/NIR electromagnetic spectrum regions. It is designed to be employed on board the UAV systems or on board aircrafts, and it finds several applications on board terrestrial rovers too, for precision agriculture, classification of crops, classification of materials on soil, environmental monitoring, dumps monitoring.
MAIA S2 is the multispectral camera equipped with the same wavelenght intervals of the European Spatial Agency's Sentinel-2™ satellite.
Sentinel-2™ is an earth observation mission developed by ESA as part of the Copernicus Programme to perform terrestrial observations in support of services such as forest monitoring, land cover changes detection, and natural disaster management.
Now, you can compare free satellite data with high-resolution maps obtained through a multispectral survey conducted with MAIA S2, the proper instrument for your multispectral survey. 
MAIA S2 is entirely developed in Italy by SAL Engineering, Eoptis and Fondazione Bruno Kessler.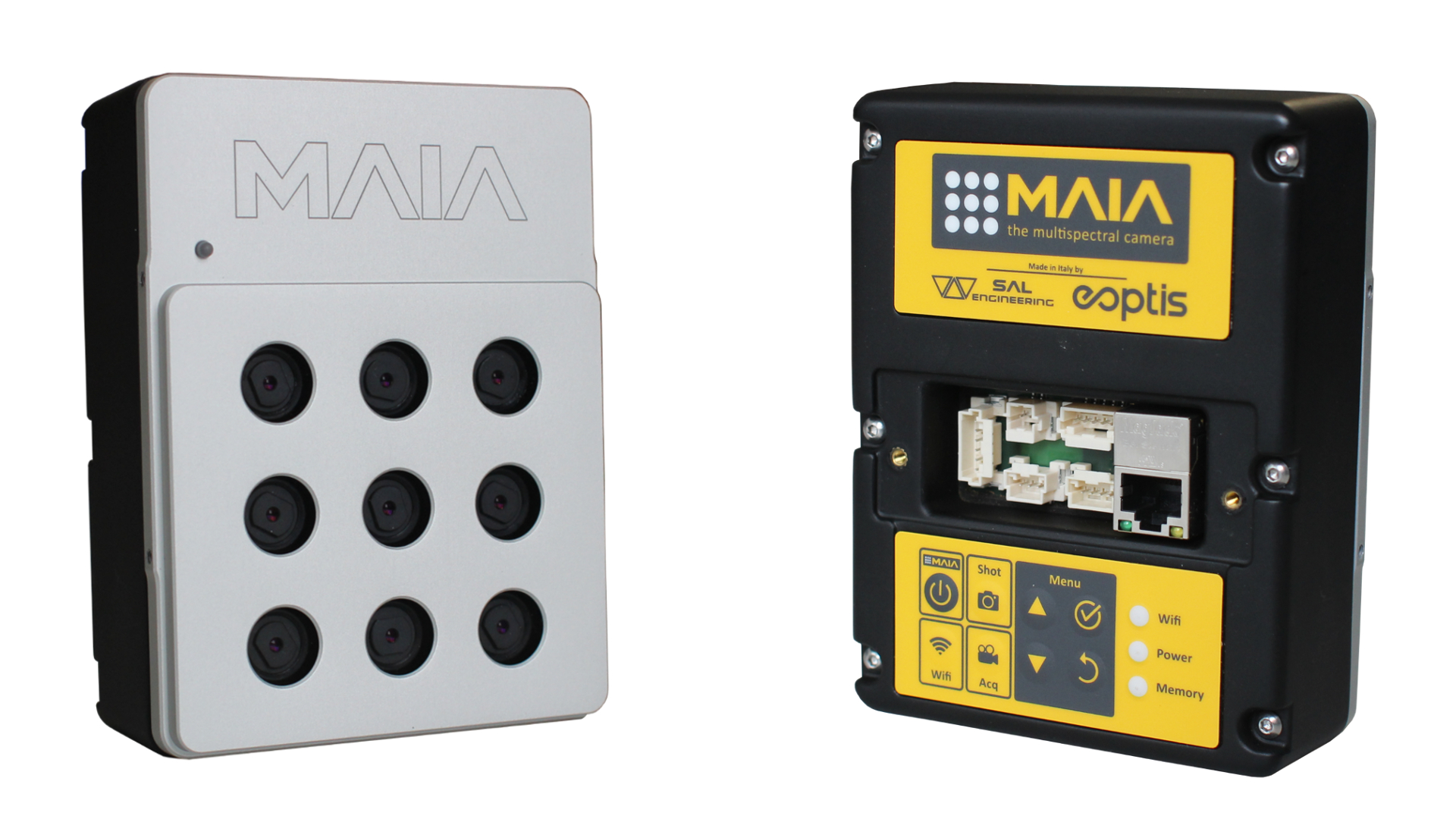 MAIA S2 is based on an array of 9 monochrome sensors (1.2 Mpixels each) with relative band-pass filters to detect informations on the VIS-NIR spectrum in the same wavelenght intervals of Sentinel-2™ satellite. MAIA S2 is the most advanced multispectral imaging camera with two narrow band in Red Edge region and bands in Violet and Blue region. 
MAIA S2     15 200 €  VAT excl.
Architecture and interfaces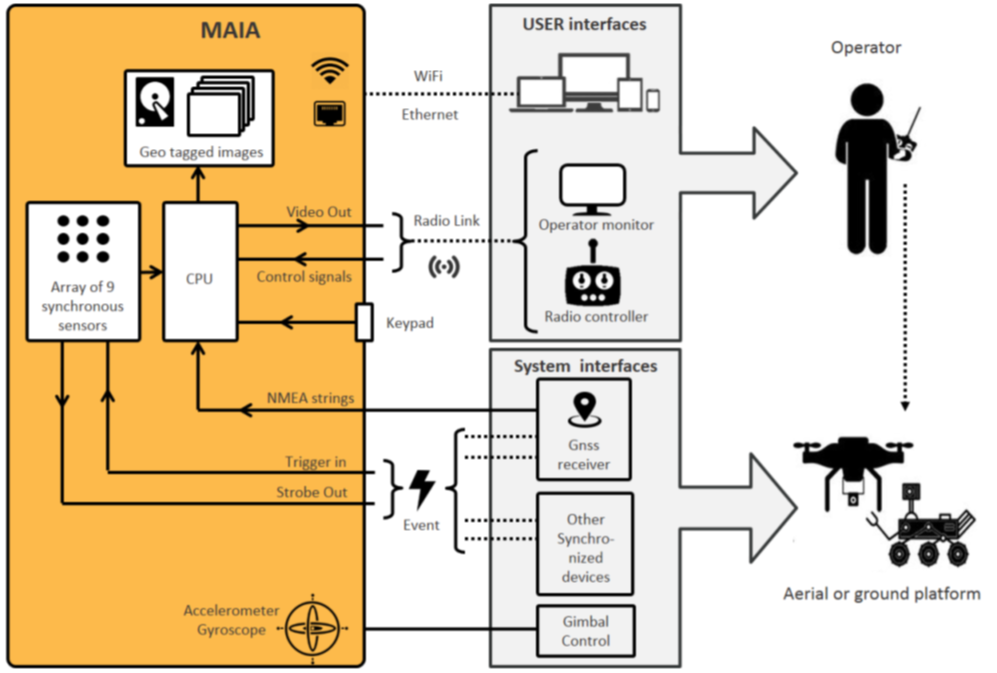 Applications of multispectral survey
Main applications of the multispectral survey conducted with MAIA concern the following fields of interest:
Agriculture and terrain survey

precision agriculture

detailed study of satellite imagery

vegetation indexes mapping

plant species recognition and biomass mapping

monitoring of health conditions of crops and plants

Geology

detection of paleochannels

detection of typology of soils, geological characterization and mapping

classification of composition of soils

characterization of materials in landslides and floodings

Industry

detection of chemical dumpings

monitoring of industrial plants

monitoring of leachate in landfills

detection of non-authorized dumps

detection and classification of materials in terrains and structures

Environmental monitoring

detection of pollutant spilling and waste recognition

classification of terrains and chemical-physical characterization

analysis of spills in rivers and coastal environments
Optics
CMOS sensors settled in MAIA S2 have resolution of 1.2 Mpixel each, and present excellent characteristics in terms of sensitivity.
Each sensor is global shutter and shoot simultaneously: it follows that it is not necessary to stabilize the shot with gimbal, which is indispensable with roling shutter sensors to avoid distorsions, crawling and blurring pixels in the images.
The high quality and the radiometric validity of data obtained with MAIA S2 are then guaranteed even during high speed flghts.
Thanks to a web panel easily accessible through Wifi and Ethernet, MAIA S2 permits a fine regulation of all parameters concerning the acquisition activities, from exposure time of each sensor to shot frequency. Automatic configurations are available for standard operations.
Each sensor has 1280x960 pixels and the dimension of each pixel is 3.75 μm x 3.75 μm.
Mono-chromatic sensors are matched with a bandpass filter based on the intervals as follows:
| | | | | | |
| --- | --- | --- | --- | --- | --- |
| Sensor | Start WL(nm) | Stop WL (nm) | CWL (nm) | FWHM (nm) | Color |
| S1 | 433 | 453 | 443 | 20 | VIOLET |
| S2 | 457.5 | 522.5 | 490 | 65 | BLUE |
| S3 | 542.5 | 577.5 | 560 | 35 | GREEN |
| S4 | 650 | 680 | 665 | 30 | RED |
| S5 | 697.5 | 712.5 | 705 | 15 | RED EDGE 1 |
| S6 | 732.5 | 747.5 | 740 | 15 | RED EDGE 2 |
| S7 | 773 | 793 | 783 | 20 | NIR 1 |
| S8 | 784.5 | 899.5 | 842 | 115 | NIR 2 |
| S9 | 855 | 875 | 865 | 20 | NIR 3 |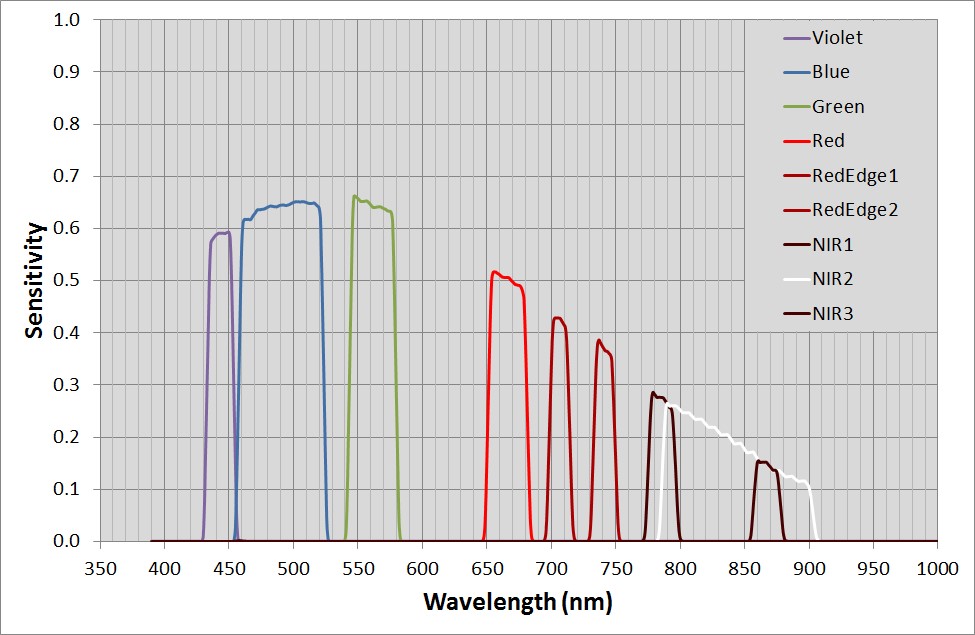 Each sensor has fixed focus lens with the following characteristics:
- Nominal focal lenght: 7.5 mm
- Aperture f/#2.8
- FOV 35° HFOV; 26° VFOV 43° DFOV
Lens are adjusted with focus in laboratory, with no possibility of intervention by the user.
Each optics of every produced MAIA S2 is calibrated in laboratory and for each camera the Calibration Certificate is available, with the following parameters:
- calibrated Focal Length
- position of Principal Point
- distortion lens parameters
Calibration and certificate is carried out by 3DOM group - 3D Optical Metrology of FBK - Fondazione Bruno Kessler in their laboratories.
For the survey operations, the Ground Sample Distance (GSD) and the Field of View (FOV), depending on the Altitude above Ground Level (AGL), are shown in the following table, that also shows the available max speed of the aircraft to acquire images with no motion blur, considering an acceptable pixel blurring and crawling lower than the size of the pixel. The maximum speed of the aircraft depends on images overlap and on shot frequency.
AGL
(m)
GSD
(mm/pixel)
FOV
(m

2

)


Max UAV speed

with 10 ms exposure time

(m/s) – (km/h)

Max UAV speed

with 1 ms exposure time

(m/s) – (km/h)

50
23
30 x 23
2.3 – 8.4
23 – 84
75
35
45 x 34
3.5 – 12.7
35 – 127
100
47
60 x 45
4.7 – 16.9
47 – 169
150
70
90 x 68
7.0 – 25.3
70 – 253
200
94
120 x 90
9.4 – 33.8
94 – 338
300
141
180 x 135
14.1 – 50.6
141 – 506
400
188
240 x 180
18.8 – 67.5
188 – 675
Devices and connectors
Via Wifi or via GigaEthernet port, users can interface with MAIA S2 to configure parameters, to visualize in real-time images during the acquisition and to download the already saved ones. For these purposes there are several interfaces: a keyboard, a powerful web panel, two inputs for radiolink receivers.
Web access is available both through a high-speed GigaEthernet connection, and through Wifi connection for operation directly on the field.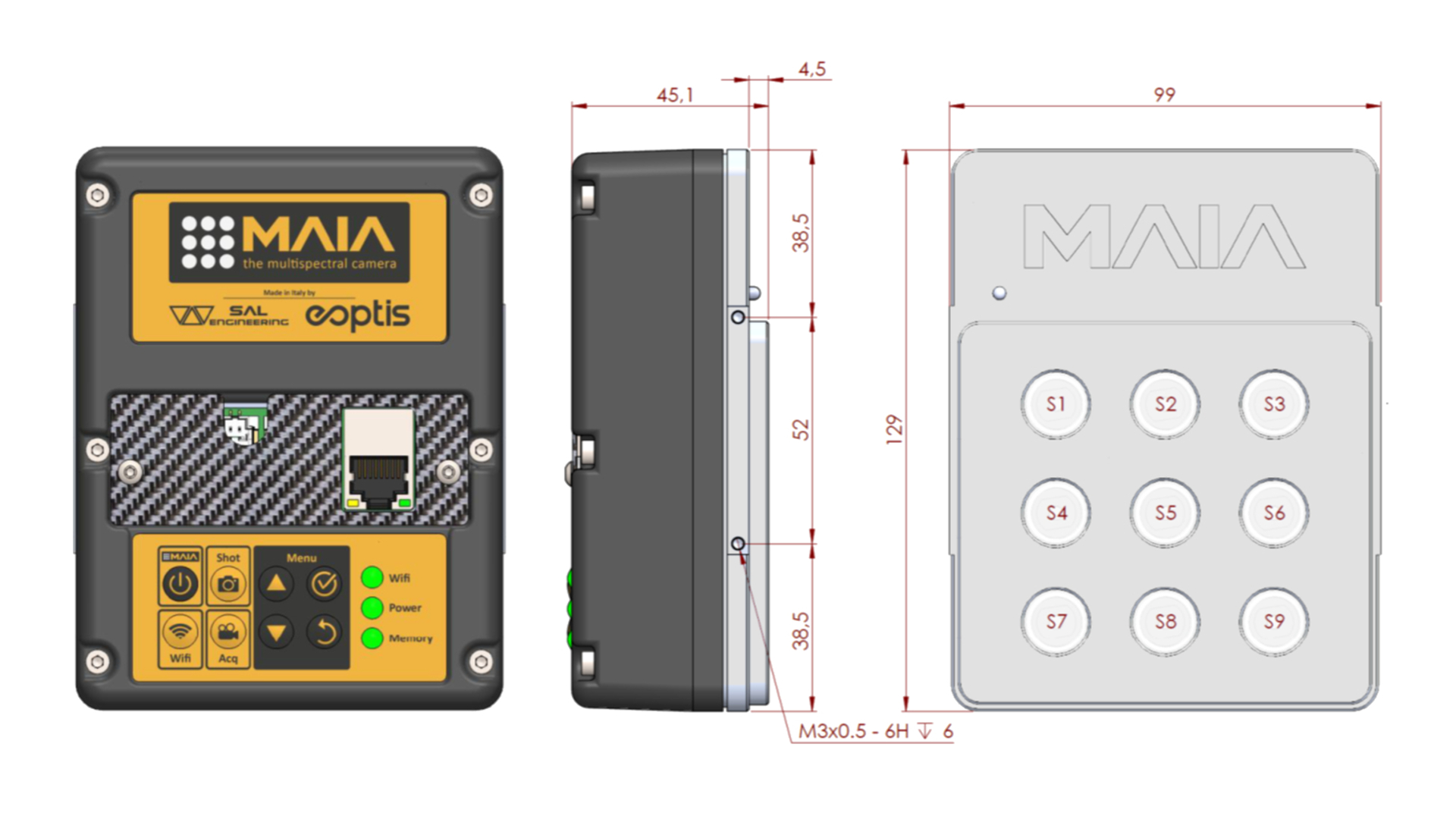 MAIA S2 can interface with various devices that can integrate embedded data into the images.
GNSS receiver to geotag images

radio transmitter that send images to the operator and give him feedback about mission and data acquisition

radio receiver for radio remote control of the camera

connector for gimbal stabiliser, that takes advantage of the IMU onboard, keeping bearing and orientation

other devices that need signal at the moment of the shot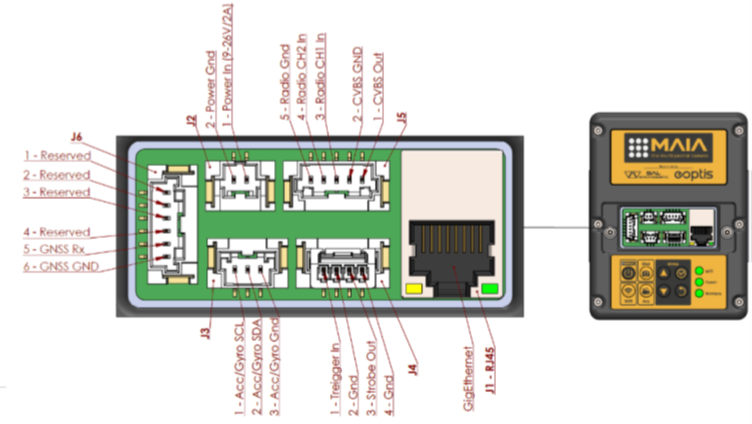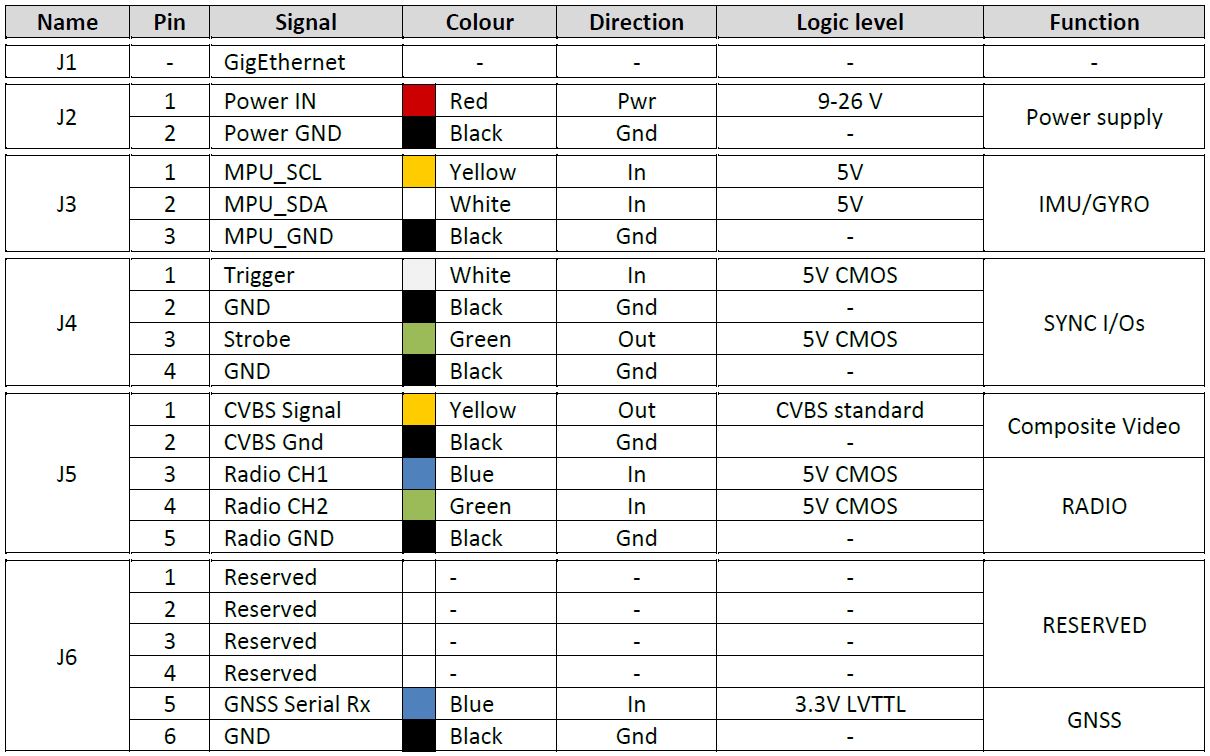 Images
Images are stored in an internal SSD solid memory that is mechanics-free, then it guarantees long term high reliability. Memory capacity can guarantee more than 10000 images. RAW files until 12 bit, that concentrate a large quantity of information, are supported.
Along with the camera, an image processing software will be provided for geometric correction, correction of radial distorsion, coregistration and radiometric correction of the RAW multispectral images acquired with MAIA S2, with tools for indexes calculation and for band combinations.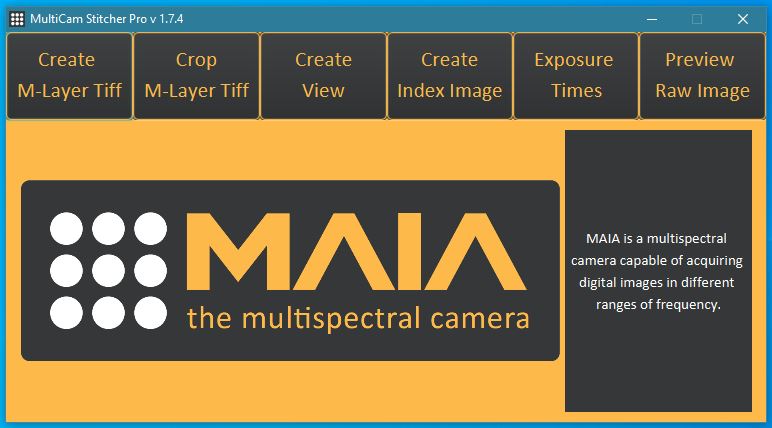 With MAIA -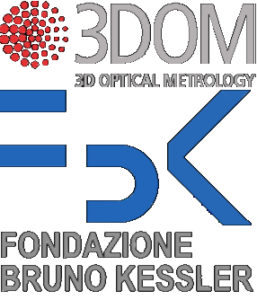 MultiCam Stitcher Pro software, you could create multi-layer tiffs, multichannel tiffs, create view with combination of bands, create index images and preview the raw dataset just acquired.
You can correct the geometrical distortion of images, get the coregistration pixel-pixel for each band, correct the radiometrical informations within the pixels.
Thanks to this software, you can generate the specific kind of dataset that could be useful for your purpose: photogrammetric processing, single shot analysis, indexes or band combination mapping.
This image processing software of MAIA S2 images is jointly developed with the cooperation of 3DOM - 3D Optical Metrology - Fondazione Bruno Kessler (FBK) based in Trento (IT).
Technical features
Sensors

9 CMOS Mono-Chromatic sensors with Bandpass filters
Array 3x3 – Centre to centre: 25 mm
Resolution: 1.2Mpixel (1280x960) each
Type: Global Shutter
Pixel size: 3.75 μm x 3.75 μm

Optics

Sensitivity interval VIS-NIR: 433 nm to 875 nm

Sensor

Wavelenght (nm)

S1

433-453

S2

457.5-522.5

S3

542.5-577.5

S4

650-680

S5

697.5-712.5

S6

732.5-747.5

S7

773-793

S8

S9

784.5-899.5

855-875

Lens Fixed focus
Focal lenght: 7.5 mm
Open f/#2.8
FOV: 35° HFOV; 26° VFOV; 43° DFOV

Exposure

Type: Manual / Automatic / Automatic based on Max Time Exposure
Start simultaneous for each sensor
Exposure Time: 0.1 ms - 50 ms

Typical exposure time: 1ms

Acquisition

Type: Single shot / Continuous with external trigger / Continuous at fixed-time interval
Max frame rate: 3 frames/sec with RAW 10bit and RAW 12bit; 6 frames/s with RAW 8bit

File format

RAW 8 bit
RAW 10 bit
RAW 12 bit

Memory

Type: Internal SSD
Capacity: 120GB (standard); 250GB; 500GB (on demand)
Image size: 21.2 MByte in RAW10 and RAW12
11.8 MByte in RAW8

Embedded data

Exposure time for each sensor.
Timestamp at the shot time.
Time, position, speed, fix GNSS.